Runaway is the seventh track off of Against The Current's debut album, In Our Bones. It was written by Tommy English and Against The Current.
Recording
Edit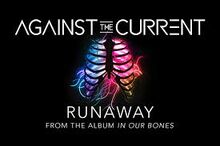 Runaway was recorded by the band at Studio America in Los Angeles, California along with the other songs on the album.
Music style
Edit
The song is described as pop rock.
Critical reception
Edit
Runaway received fairly positive critical reception. The song was praised for its energy and spunk. However, it has been criticized for its unoriginal lyrical content. One Sputnikmusic critic stated, "Runaway is maybe the most clichéd lyrical regurgitation imaginable....there's not much new in the way of substance."